Commentary by Kunal Mehta, head of fixed income specialist team
Fixed income markets experienced heightened volatility in October as commodity prices rose further and growing concerns around inflation continued to weigh on government bonds. Risk assets across the board were impacted by this more cautious sentiment, notably emerging market debt.
Early in the month, the Organization of the Petroleum Exporting Countries (Opec) announced that it would only gradually increase oil production, which combined with rapidly increasing oil demand to cause US oil prices to reach seven-year highs, while the US Consumer Price Index rate of inflation also exceeded market expectations.
The month ended on a supportive note for markets as the European Central Bank (ECB) confirmed at its October meeting that its pandemic emergency purchase programme (PEPP) would continue. The ECB also highlighted its belief that higher inflation would prove transitory and that its analysis did not support market expectations of a rate rise prior to the end of 2022.
Monthly performance by market
Global government bonds
Corporate bonds
Emerging market bonds
UK
Europe
US
HY
Bloomberg Barclays Global Aggregate Treasuries (USD Hedged)
Bloomberg Barclays Global Aggregate GBP Corporate (USD Hedged)
Bloomberg Barclays Global Aggregate EUR Corporate (USD Hedged)
Bloomberg Barclays Global Aggregate USD Corporate (USD Hedged)
Bloomberg Barclays Global High Yield (USD Hedged)
JP Morgan Emerging Markets Bond Index EMBI Global Diversified (USD Hedged)
-0.28%
0.64%
-0.68%
0.15%
-0.53%
0.02%
Government bonds
In the government bonds of developed markets, yield curves flattened across core markets. In the US and Germany, yields on maturities up to and including 10 years rose, while yields on longer-dated bonds fell. The UK government bond yield curve also saw significant flattening, led by the longer end, which fell between 20 and 30 basis points during the month1.
Credit markets
In credit markets, spreads widened slightly during the period. Third-quarter earnings were again strong, beating analyst expectations, with sectors that have benefitted the most from economies reopening following Covid-19 restrictions—such as energy, retail and transportation—leading the way2. Previous concerns around margin deterioration have not materialised so far, and full-year earnings guidance remains optimistic. However, fears of rising costs, slowing growth and the associated impact on earnings going into 2022 are growing. Potential supply chain disruption and the effect of inflation are among the key themes threatening the earnings outlook and the earnings upgrade cycle appears to be drawing to a close.
Credit spread levels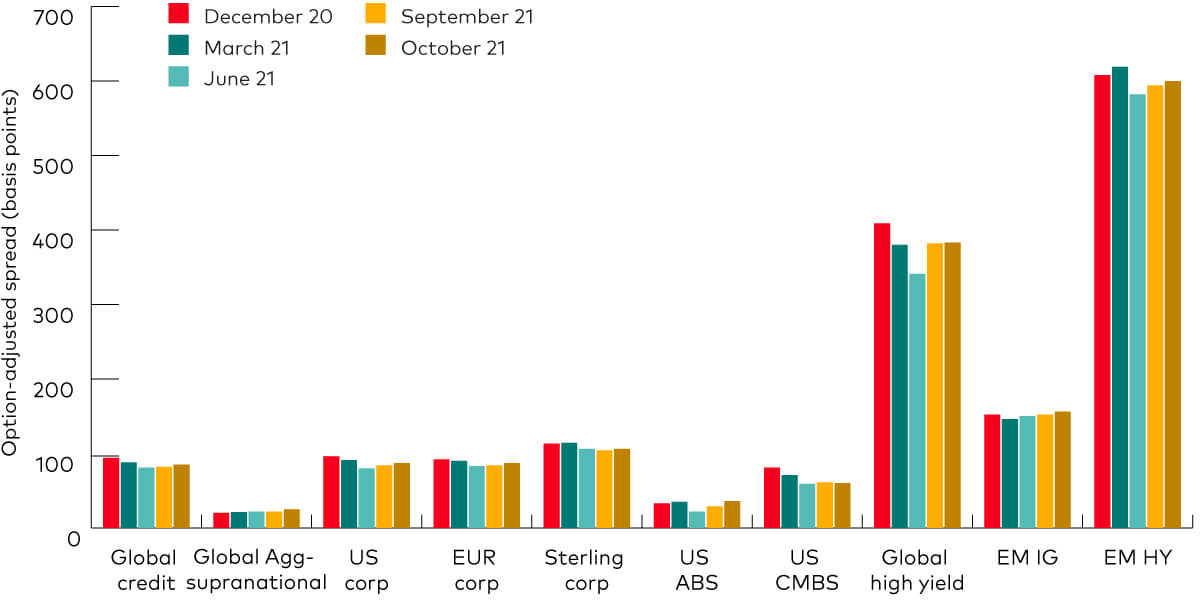 Source: Bloomberg Barclays indices: Global Aggregate Credit Average OAS Index, Global Aggregate Supranational Index, US Aggregate Corporate Average OAS Index, Euro Aggregate Corporate Average OAS Index, Sterling Aggregate Corporate Average OAS Index, US Aggregate ABS Average OAS Index, US Aggregate CMBS Average OAS Index, Global High Yield Average OAS Index. J.P. Morgan EMBI Global Diversified IG Sovereign Spread Index, J.P. Morgan EMBI Global Diversified HY Sovereign Spread Index. As at 31 October 2021.
Supply in October was muted with primary-market activity slowing significantly as issuers entered third-quarter reporting blackout periods. Issuers that did tap the market continued to offer some new issue premium, although in most cases this did not lead to a material repricing of secondary-market yield curves. We expect issuance to pick up from mid-November as companies rush to complete their 2021 funding plans as well as pre-funding for 2022 before the market enters its traditional slowdown in the run-up to the end of the year. Nevertheless, we continue to expect materially lower total issuance in 2021 relative to that seen in 2020.
Emerging markets
Emerging markets (EM) bonds saw broadly flat returns for the month, with EM spreads widening by 2 basis points and EM high yield by 6 basis points. After selling off the previous month, EM high yield held up relatively well in October, although a number of high-yield names came under substantial pressure. Sovereign bonds issued by Ghana and Tunisia bore the brunt of the pressure, particularly early on in the month, while high-yield names with improving fundamentals—such as Oman and Iraq—outperformed the market. Some struggling credits—notably Sri Lanka and El Salvador—experienced substantial rebounds from underperformance in previous periods, as a result of positive political developments3.
As developed market yields at the short end of the curve rose, this weighed on EM local-currency bonds. Concerns over global inflation also continued to add pressure. The government bonds of Russia and Brazil were hit particularly hard as their central banks hiked rates more than expected and indicated that further tightening was to come. Brazil faced additional challenges as the government pushed for further spending, breaching the country's fiscal cap. Local-currency bond yields also rose substantially across Central and Eastern Europe and Turkey.
Emerging market bond spreads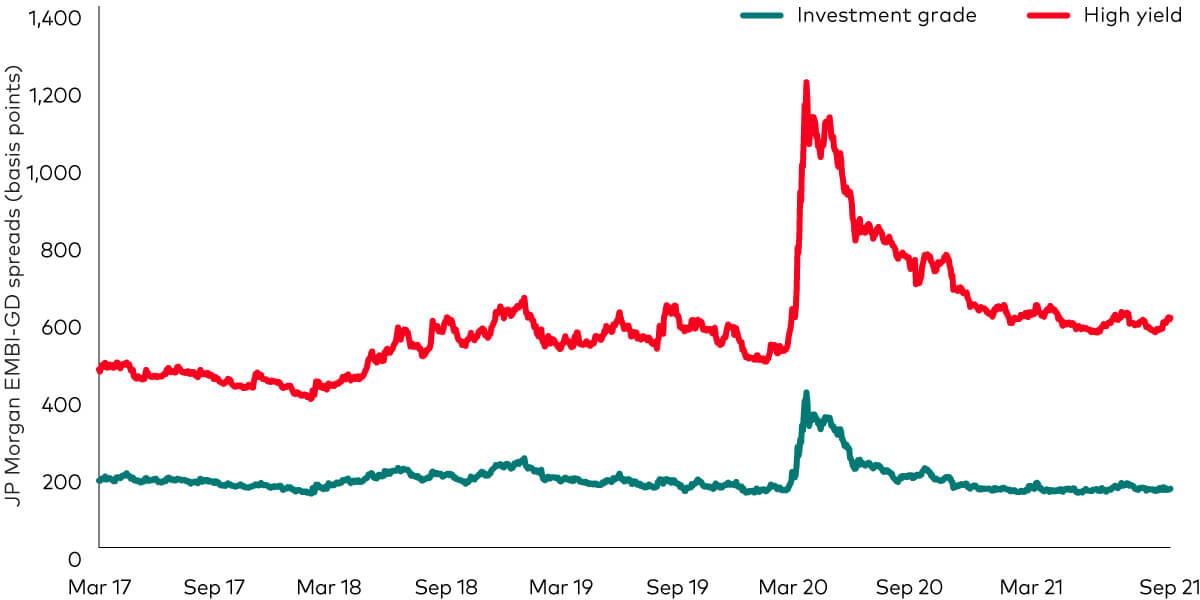 Source: Bloomberg, JP Morgan and Vanguard. 6 March 2017 to 31 October 2021.
Only a handful of sovereigns issued Eurobonds (bonds issued in currencies other than that of the issuer) in October, with China and Peru issuing $4 billion respectively and the United Arab Emirates making a debut Eurobond issue. EM corporate bond issuance was livelier, however, as a number of names in Asia and Russia came to market. EM debt funds saw outflows in October as hard currency funds suffered $1.2 billion of negative flows while local currency funds lost $1.6 billion4.
Outlook
We are constructive on credit exposure but many of the highest-quality issuers are now priced too richly, in our view, and lower-quality issuers are vulnerable to a change in market sentiment. We have therefore reduced our credit exposure over the last several months and are now focused on investment in credits that have upside potential based on improving fundamentals. Relative to more than a year ago, overweights towards specific sectors, business models or credit-quality buckets offer little value in today's market.
Strong credit fundamentals and investor demand continue to pin yields near historical lows, but that also means risk assets are vulnerable to an economic or market shock. The reduction of monetary and fiscal support is likely to be gradual, and the path forward for policy appears clear. We expect interest rates to gradually track higher. Valuations leave little room for upside, but incrementally higher interest rates offer better forward-looking returns. Less policy accommodation could lead to greater market volatility and more opportunities to find attractively priced securities. High-quality corporate bonds have shown stability in light of recent market movements and offer decent yield above government bonds. High-yield corporates offer some alpha opportunities, but spreads overall are at historically tight levels.
In EMs, the market focus remains squarely on the US Federal Reserve's tapering plans, as there is a possibility that this could trigger a "relief rally" in EM high yield. As a result, we remain alert to any opportunities in the space. At the same time, after recent large moves in EM rates, we see a number of opportunities in specific names, even though the space as a whole remains very vulnerable to volatility in developed market rates. Stabilisation in Chinese growth and an end to the broader global slowdown and inflation mix is needed before EMs can recover sustainably from recent weakness.
There remain pockets of value in parts of EM high-yield credit, especially in longer-dated bonds where the steep curves offer attractive active opportunities. We also see value in certain oil credits, but we are concerned that EM investment-grade credit has recently provided little return. Developed market tapering could cause some disruption, and for now we see the US dollar remaining strong. We are monitoring fiscal funding needs as we feel that countries that overshoot on this front could be unduly punished by the market. In local EM rates, value should emerge once EM central banks have undertaken more tightening, but for now opportunities are rather idiosyncratic.

1 Vanguard and Bloomberg as at 31 October 2021.

2 Vanguard Fixed Income Group. Data as at 31 October 2021.

3 Bloomberg, JP Morgan and Vanguard as at 31 October 2021.

4 JP Morgan as at 31 October 2021