Reviewing client portfolios regularly is an integral part of an adviser's value proposition. Effective portfolio reviews require diligence and objectivity, but it can be very easy and tempting to be swayed by the markets, the economy, manager ratings or the recent performance of individual funds when considering whether a portfolio needs changes.
External and often short-term factors can lead investors to overlook the basic principles that we believe will give them the best chance of investment success. These principles rest on a simple idea, which is to focus on what investors can control, namely their goals, balance, costs and discipline.
Whether or not client portfolios require fine-tuning or more significant changes, these four principles offer a base for investors to work from and return to when deliberating over portfolio construction.
Goals
Vanguard believes that successful investing begins by setting measurable and attainable investment goals and developing a plan for reaching those goals. Keeping this plan on track means evaluating progress on a regular, ongoing basis to ensure the portfolio is aligned with the client's financial objectives and tolerance for risk.
Over time, a client's circumstances and personal objectives may change. They may decide they want to retire earlier, take a sabbatical, buy a new home or provide financial support for a relative, for example. Such changes to a client's financial goals may require adjustments to their investment strategy. This could be as simple as making changes to their spending or investing budgets – or shifting their portfolio's asset allocation.
Balance
Speaking of asset allocation, achieving long-term financial goals means accepting the trade-off between risk and reward, and appreciating the historical characteristics of different types of investment. We can't control what happens in markets but understanding the historical return-patterns of equities and bonds can help manage risk in client portfolios.
The correlation between equity and bond market returns has been mostly negative for the past few decades, with bond markets providing investors some protection from equity market downturns1. That's why, for long-term investors, we advocate an allocation to bonds as part of a multi-asset portfolio.
Our long-term forecasts suggest the negative relationship between bonds and equities is likely to persist, on average, over the next 10 years, as shown in the chart below based on the latest numbers from the Vanguard Capital Markets Model (VCMM), our proprietary forecasting framework.
In particular, euro area bonds, global ex-euro area bonds and German government bonds are expected to maintain a negative correlation with euro area equity, global ex-euro area equity and emerging market equity.
Bonds and equities to maintain a negative relationship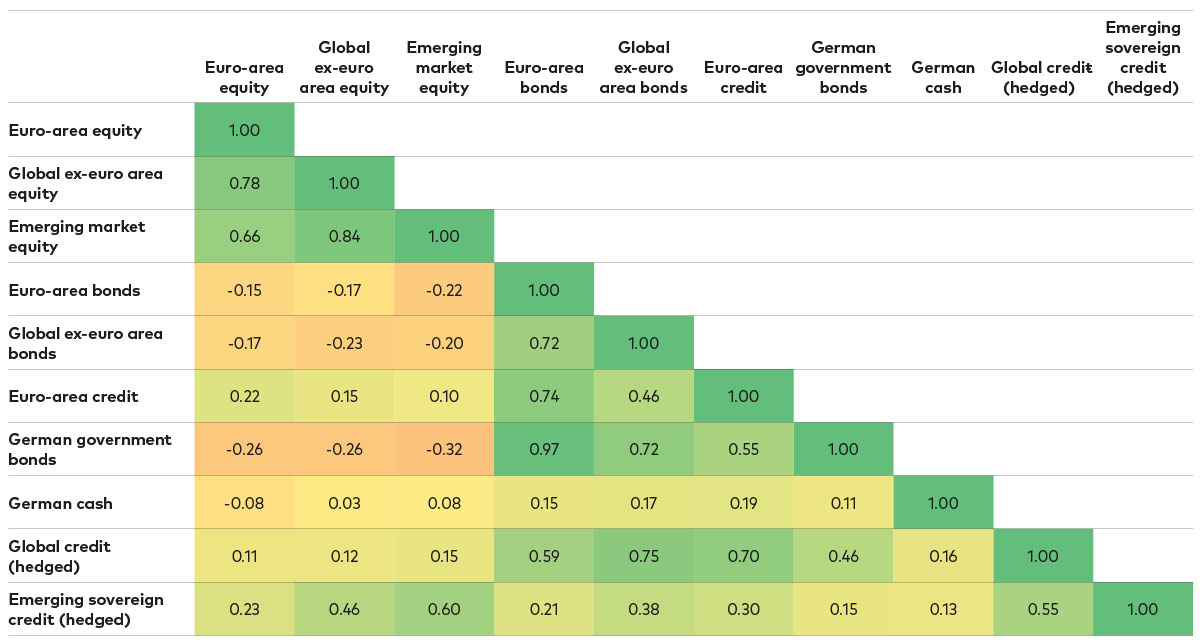 Any projections should be regarded as hypothetical in nature and do not reflect or guarantee future results.

Notes: Forecast corresponds to median estimate out of 10,000 VCMM simulations of 10-year nominal total returns in EUR for the asset classes highlighted here. See Vanguard economic and market outlook 2021 for further details on asset classes. Sources: Vanguard calculations, as at 30 September 2021.
IMPORTANT: The projections and other information generated by the Vanguard Capital Markets Model regarding the likelihood of various investment outcomes are hypothetical in nature, do not reflect actual investment results and are not guarantees of future results.
The right mix of equities and bonds depends on the client's investment horizon, their financial goals and their preference for risk. These factors may evolve as clients near their investment objectives or experience changes to their personal circumstances, so it's important to re-evaluate the suitability of a portfolio's strategic asset allocation.
As well as finding the right balance of equities and bonds, it's equally important to maintain global diversification throughout the portfolio. Overweighting portfolios to specific regions or sectors can be tempting based on the previous year's returns or the latest market outlooks, but past performance is not a guarantee of future results and predicting which markets will perform best is notoriously difficult to do consistently. By maintaining a broad exposure across global equity and bond markets, it's easier to overcome the temptation to try to time markets.
Cost
As with many things in life, financial markets are unpredictable. While advisers can't control the performance of client investments, expense is one thing they can control. Our research has shown that low-cost funds have a higher probability of outperforming costlier peers, spanning both active and index strategies2. If the cost is high, you simply get to keep less of your returns. This is at the core of everything we do at Vanguard and our aim will always be to pass as much as possible back to clients.
Discipline
Asset allocation is at the heart of achieving investment objectives but it works best if you stick to it over time, through varying market environments. For multi-asset investors, discipline includes rebalancing the portfolio regularly to maintain the targeted mix of equities and bonds, which can be a difficult conversation with clients if not framed appropriately, because selling the portfolio's better performers to buy lower-returning assets isn't necessarily an intuitively good thing to do – but it will help manage risk over the long-term.
At the same time, discipline means staying the course when markets fall and portfolios suffer losses. Selling assets when markets take a hit means realising losses and forgoing any of the future returns that those assets could deliver.
Maintain perspective and be realistic
When it comes to portfolio reviews, it's vital that client expectations are managed and based on realistic outcomes to avoid disappointment further down the line and to keep them bought-in to the long-term strategy.
As explained in the Vanguard Economic and Market Outlook for 2022, we expect a lower average annual return from global equity markets over the next decade compared with the previous 10 years, while the outlook for global bond markets is more sanguine with interest rates expected to rise. Markets are currently pricing in a July rate hike (of about 10 basis points) from the European Central Bank, but we think this is too soon and expect a single 25-basis-point hike from the central bank in December, taking the base rate to -0.25%. The market is pricing in a base rate of 0% by the end of 2022.
With headline inflation rising across most developed economies, it might be tempting for investors to try to improve expected returns by investing in alternative assets such as gold and commodities. However, our research has found that equities continue to offer long-term investors the best chance of outpacing inflation.
Ultimately, it's important to keep a long-term perspective and tune-out the noise coming from both markets and the global economy when reviewing portfolios. Focus on what can be controlled to give clients the best chance of meeting their investment goals.
1 Source: Vanguard calculations, based on data from Bloomberg, L.P. For further information, see Renzi-Ricci, G., and L. Baynes. "Hedging equity downside risk with bonds in the low-yield environment", Vanguard Research, January 2021. Notes: Distribution of German government bond and German corporate bond returns when German equity returns were negative, January 2003 to November 2020. German equities refer to the DAX Index, German government bonds refer to the Bloomberg Germany Government All Bonds Total Return Index. The research found a lower (mostly negative) correlation between German government bonds and German equities, and that government bonds have historically provided higher median returns compared with corporate bonds and cash when equities fall.
2 Source: Vanguard calculations, based on data from Morningstar. See Plagge, Walker, Hon and Corlett-Roy, 2021. "The case for low-cost index-fund investing", Vanguard. To quantify the impact of costs on net returns, we charted managers' excess returns as a function of their expense ratios across various categories of UK funds over a ten-year period ending 31 December 2020. The analysis found that higher expense ratios are generally associated with lower excess returns.