Inflationary pressures remain front of mind for central bankers, making further interest rate rises likely and adding to the squeeze on global economic activity.
In the euro area, we now expect a mild recession to begin later this year, with negative GDP growth in the final quarter of 2022 and in the first quarter of 2023. This was after euro area GDP grew by 0.6% on a seasonally adjusted basis in the second quarter.
More encouraging, though, is the observation that the European gas market has adapted surprisingly well to the cutting off by Russia of natural gas supplies through the Nord Stream 1 pipeline. Germany, Europe's biggest economy, is the most impacted but generally we believe that the risks are no longer skewed to the downside. This is in part because countries have been successfully stockpiling gas. Euro-member states are also coordinating to find alternative sources of gas and some fiscal policies are in play to counter the geopolitical challenge.
We've also trimmed our most optimistic expectations for growth in the United States this year. We now expect full-year 2022 US economic growth in the 0.25%-0.50% range, with the upper end down from 0.75% last month. Our expectations for recession next year remain the same as last month, with a 65% probability.
In the UK, the picture is more clouded after a new prime minister and monarch was named within a matter of days. Prime Minister Liz Truss's plan to impose an energy price cap could yet alter our outlook, which is still under review. Before Truss's announcement to limit the energy bills of a typical household to no more than £2,500 per year for the next two years, we believed that the UK was on track for a recession that would last for three quarters, starting in the fourth quarter of 2022.
We nonetheless still expect the Bank of England to raise interest rates by another 75 basis points at its next meeting, which was postponed to 22 September due to the passing of Queen Elizabeth II, with more rate rises to follow. Inflation pressures will likely ease over the short run due to the energy price cap but might reassert themselves over the medium term. We expect UK rates to peak at 4.5% by the first quarter of 2023.
Similarly, we believe market hopes for rate cuts from the US Federal Reserve are misplaced and expect the US central bank to continue ratcheting up rates until they reach a range of 3.25% to 3.75% by the end of the year, and 4.25% by the second quarter of 2023. We think rate cuts in 2023 are unlikely, given that wage inflation concerns and energy prices are the risk factors that will keep the Fed vigilant.
Further monetary tightening by the European Central Bank (ECB) is likely too. Our base case is for another 75 to 100 basis points of rate hikes in what remains of 2022, with the deposit rate hitting 1.5% to 1.75% at year-end. We now expect a terminal, or peak, rate of 2.5% by early 2023 (we previously estimated 2.0%). That rate will likely hold for all of 2023.
In China, meanwhile, we maintain our below-consensus forecast of 2.5% to 3.5% for China's full-year 2022 GDP growth. Stimulus measures, which seemed unlikely two months ago, are on the horizon. While our expectations for second-half recovery are below consensus, we believe growth will be uneven over the two quarters. We expect the third quarter will be below expectations, but the fourth quarter will be more robust thanks to increased stimulus and a greater chance of relaxed Covid-19 policies before year-end.
However, it's unlikely that we will see anything like the V-shaped recoveries that China had in 2020 and 2021.
The points above represent the house view of the Vanguard Investment Strategy Group's (ISG's) global economics and markets team as of 14 September, 2022. For a deeper dive into our economists' latest thinking, please read the full report.
Asset class return outlooks
Vanguard's projections for 10-year annualised equity and fixed income returns, informed by the Vanguard Capital Markets Model® (VCMM), remain unchanged from last month, as conditions have not changed significantly enough in the past few months to markedly change our projections1. The figures below are based on data as at 30 June 2022.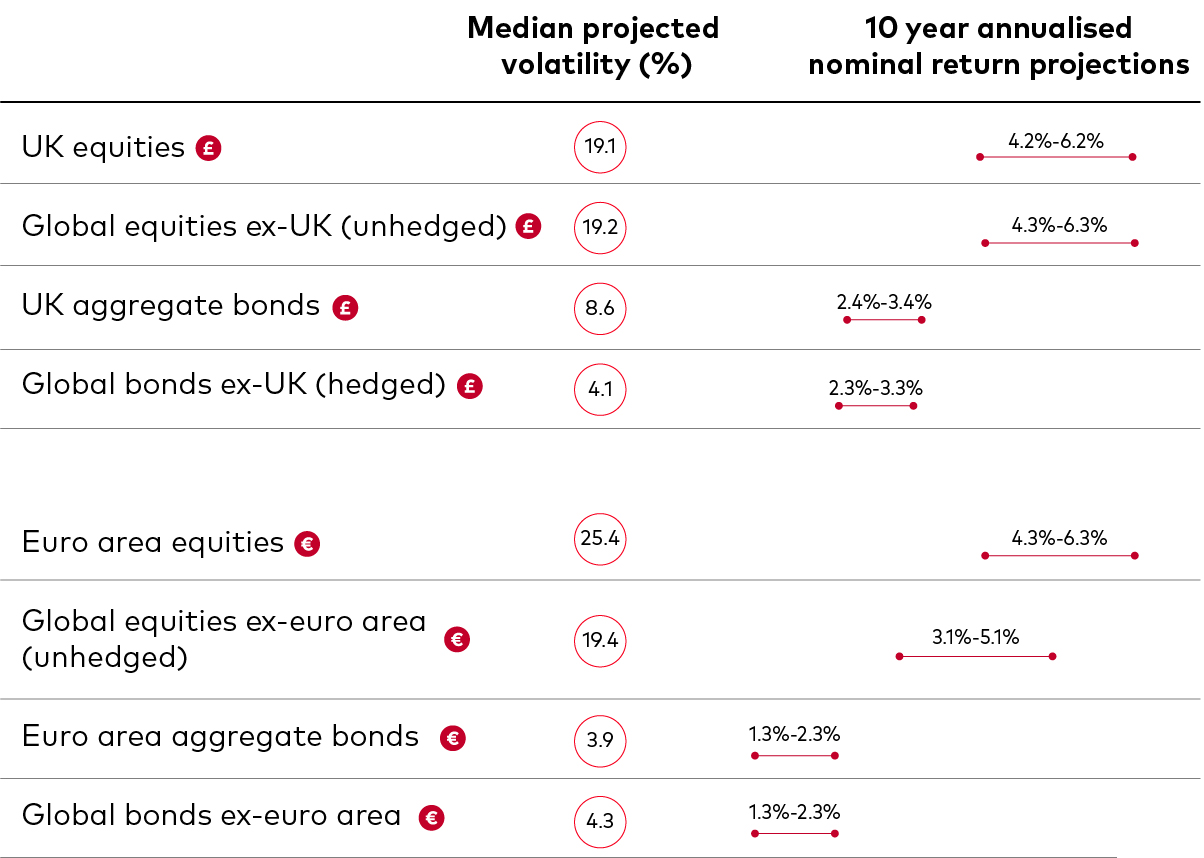 IMPORTANT: The projections or other information generated by the Vanguard Capital Markets Model regarding the likelihood of various investment outcomes are hypothetical in nature, do not reflect actual investment results, and are not guarantees of future results. Distribution of return outcomes from the VCMM are derived from 10,000 simulations for each modelled asset class. Simulations are as of 30 June, 2022. Results from the model may vary with each use and over time.
1 Full Vanguard Capital Markets Model® (VCMM) projections generally are based on calendar quarter-end data, although we provide partial sets of projections based on data as of other month-ends when market volatility is significant.
The figures centre on the 50th percentiles of the distributions of our projected returns. We present 2-percentage point ranges around the central tendencies of equity return distributions and 1-percentage point ranges around the central tendencies of fixed income return distributions. Numbers in parentheses reflect median volatility estimates. The probabilistic return assumptions depend on market conditions at the time of the running of the VCMM and, as such, can change with each running over time.